FUXTEC Professional Petrol Brush Cutter Grass Trimmer 2in1 FX-PS152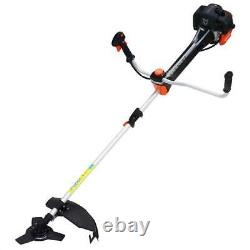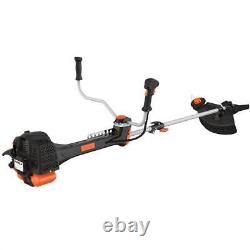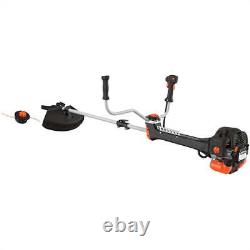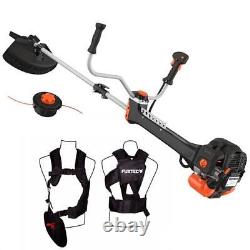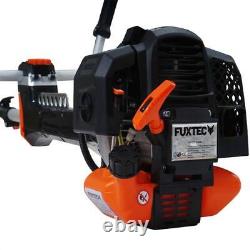 Professional Petrol 2in1 Power Brush Cutter - Grass Trimmer - Motor Scythe FUXTE. Petrol FUXTEC Professional 2in1 Power Brush Cutter / Grass Trimmer FX-PS152. UNIQUE IN DESIGN - The Power Brush Cutter / Grass Trimmer For The Professional.
Motor Scythe - Lawn Trimmer - Grass Trimmer - Brush Cutter. Padded carrying strap for professional (commercial) use - Professional carrying strap "COMFORT". High-quality nylon spool for refilling without opening the thread head. The pole diameter is 28mm, thus significantly increasing stiffness and lower vibrations. 2.95HP with 52cc capacity - 2-stroke air-cooled.
EASY STARTER is already on board. Toolless maintenance access to the air filter and carburettor.
Round safety bar to protect the tank and ensure a safe stand. Double thread head with automatic tip control. Multiple rigidly mounted 9-tooth driveshaft. An innovative design of the cylinder and piston reduces wear and tear and extends the engine' s life. In combination with the already integrated Easy Starter, you can start the machine quickly and with ease of use.
No more strenuous hauling or even tearing of the starter cord. Slow and continuous pulling charges the preload of an internal spring and unfolds abruptly. The engine starts "by itself". The internal drive shaft has also been completely revised.
For the first time, a 9-tooth shaft was used for better durability. The shaft is mounted on several oil dampers in the aluminium guide to reduce vibrations. Mobility and multiple uses with one drive. Motor scythe with a powerful 2-stroke engine and more torque due to its new 52cc engine.
The professional trimmer FX-PS152 offers excellent pulling power and high torque. Ideal for mowing large green areas and tough weeds quickly and effectively. Can also be used for gnarled bushes and thin trees with the right cutting tool.
Due to the interchangeable thread head, the all-rounder PS152 is perfect for trimming lawn edges and is suitable for cutting around trees, paths and stairs on private garden property. Scope: EASY-FIT spool - no disassembling of the thread head to refill the thread. FUXTEC-note: For an optimal long-lasting operation of our devices, we recommend our original FUXTEC oils - "Made in Germany". Engine type / engine class.
Guaranteed sound power level (LWA). Use unleaded gasoline with 2-stroke engine oil in a 40:1 ratio. During first operations, a mixing ratio of 25:1 can be selected to ensure lubricating all machine parts optimally first.
Power output (kW) (according to ISO 8893). 2.2kW / 7,500min-1. Sound pressure level (LPA) at the operator station. Measured sound power level (LWA) (according to ISO 10884). 9,661m/s2 - k=1.5m/s2. 305mmx1.6mm-2T / 255mmx1.6mm-3T/ 255mmx1.6mm-4T/ 255mmx1.6mm-8T. Rotation direction of the cutting unit. Counterclockwise (see the mark on the device). Dry weight (without fuel, cutting unit, carrying strap).
Fuel consumption (kg/h) (according to ISO 8893). Specific fuel consumption (g/kWh) (according to ISO 8893). We deliver packages by parcel service or forwarding agency!