STHIL KM131r ROTAVATOR AND BRUSH CUTTER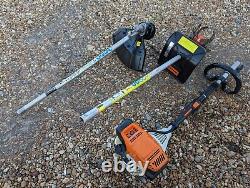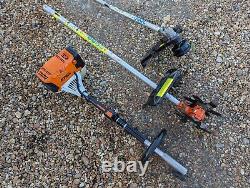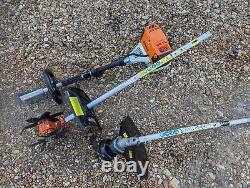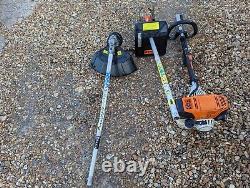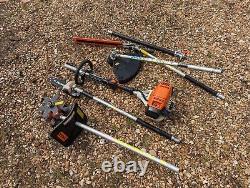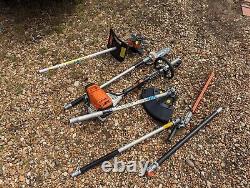 3 PIECE STHIL KOMBI SYSTEM. 4 / mix PETROL ENGINE. 4 MIX IS AN ENGINE THAT RUNS ON 2 /STROKE PETROL BUT ON THE FOUR STROKE PRINCIPLE ITS GOT VALVES WHICH RESULTS IN BETTER EMISSIONS AND LOW DOWN POWER.
MODEL no KM 131R [one of the most powerfullest kombi engines]. STIHL ROTAVATOR WITH 6 TILL. IDEAL FOR BETWEEN ROWS ON VEGITABLES.
AFTERMARKET BRUSH CUTTER WITH A STRIMMER HEAD. 7"in AFTER MARKET CHAINSAW WITH AN OVER ALL LENTH OF 87"ins AND 115ins WITH THE EXTENSION. 17" AFTER MARKET FULLY ADJUSTABLE HEDGE CUTTER WITH AN OVERALL LENGTH OF 77"in AND 105ins WITH THE EXTENSION.
28in AFTER MARKET EXTENSION FOR THE ABOVE. THERE ARE MORE TOOLS TO FIT THIS SYSTEM LIKE BLOWERS : SWEEPERS EXT ETC.
SPLITS IN HALF TO GO IN A VEHICLE OR FOR STORAGE. FULLY WORKING AND IN GOOD CONDITION.