FUXTEC Petrol Multitool chainsaw hedge trimmer brush cuter grass trimmer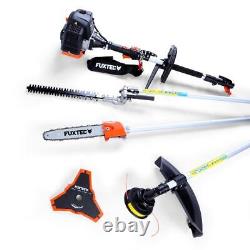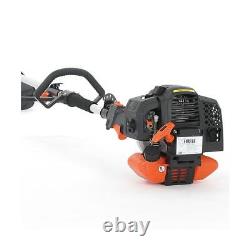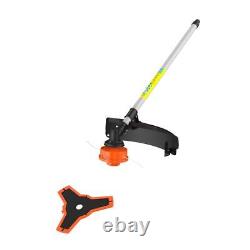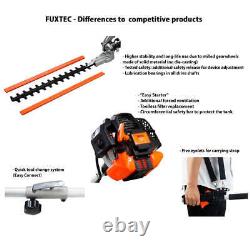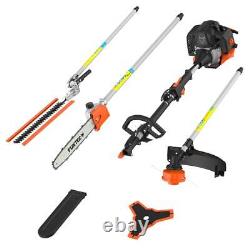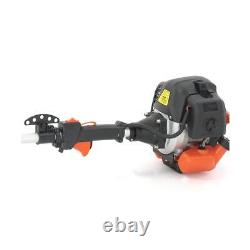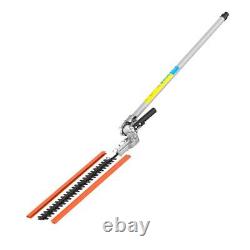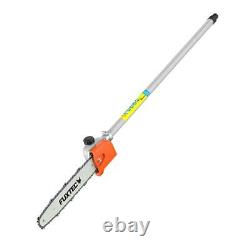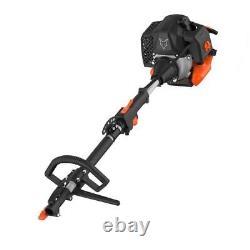 Petrol 4 in 1 Multitool - high level pruner, long-range hedge trimmer, brush cut. Petrol FUXTEC 4 in1 Multitool. FUXTEC all-rounder - our 4 in1 Multitool FX-MT152.
3.0HP with 52cc capacity - 2-stroke air-cooled. Toolless maintenance access to the air filter and carburettor. Circumferential safety bar to protect the tank. Double thread head with automatic tip control. Multiple rigid mounted 9-tooth driveshaft.
The FX-MT152 all-rounder from FUXTEC offers mobility and multiple uses with one drive. Brush cutter, thread head, high-level pruner and long-range hedge trimmer - all in one device. Simply change the attachment and you have a completely different device. Whether removing branches, trimming hedges or simply using it for landscape maintenance and trimming the lawn.
The innovative all-around handle is ideal for working in confined spaces, but also in places that are difficult to access. When using attachments such as a hedge trimmer, the all-around handle is the best recommendation. The practical brush cutter is ideal for precise cutting off hard-to-reach grass areas where the use of a lawnmower is no longer possible or only possible to a limited extent.
Grass edges along walls, steps or fences are no longer obstacles and can be cut easily. We deliver packages by parcel service or forwarding agency!