Stihl FS 40 Petrol Brushcutter/Strimmer (27.2cc) Brand New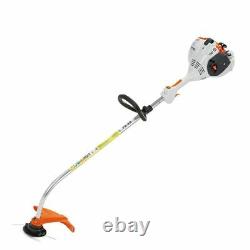 For trimming small areas of grass and lawn edges. STIHL FS 40 has a simple starting system, multi-function controls, round handle, 2-MIX engine.
With bent shaft, loop handle and AutoCut mowing head ideally for trimming small areas of grass and around obstacles. 2-stroke engine with stratified charge. A fuel-free layer of air is created between the burned charge in the combustion chamber and the fresh charge in the crankcase, reducing the amount of fuel lost during the charge cycle. This results in more power with a lower weight, up to 20% lower fuel consumption than regular 2-stroke engines and significantly reduced exhaust emissions.
A small fuel pump delivers fuel to the carburettor at the touch of a button. This reduces the number of starting strokes required following extended breaks in operations. Simply set the choke, pump the fuel primer, pull the starter cord and away you go! The running machine then switches off after a brief press of the stop button. Once the machine is at a standstill, the ignition activates again automatically. Thus the ignition is always ready for starting. Easy, comfortable thumb-operated control means the operator's hand never leaves the handle.
STIHL FS 40 Technical Dta. Sound power level with metal tool dB(A). Sound pressure level with plastic tool dB(A). Sound power level dB(A). Vibration value, right with plastic tool m/s2.
Vibration value, left with plastic tool m/s2.