GX50 10 in 1 pole trimmer 4 stroke gas hedge trimmer chainsaw gas powered shears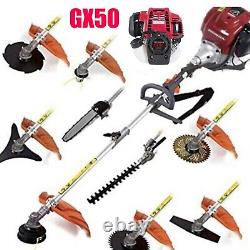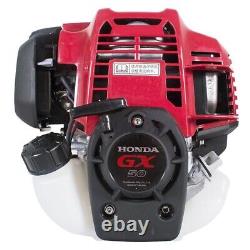 Engine model: GX50 10 in 1. Single cylinder gasoline Engine power: 0.95kw/7500r/min. It can convert to different tools easily with different head and a quick release connector.
Makes it an Gas pole saw, Hedge trimmer, Weed eater and Brush cutter, making it suitable for different places. With 68inches pruning reach, you don't need to take the risk of getting on a ladder for high limbs/branches in an inconvenient position, it will accomplish all your hard-to-reach tasks. Our string trimmer has 58cc powerful engine, makes the tool won't be entangled. 180° adjustable hedge trimmer will help you pruning bushes of different angles.
You will save a lot of time from heavy tasks. 4 stroke engine Smoother and easier pull starter make the machine start much easier. You can start it in a few steps, simple and efficient. Any problem can be solved, and we'll arrange parts without extra charge.
We'll get back to you in 24 hours.